What a week. 😰
Every major global equity index ended the week lower. Looks like the October effect is already in full swing.
What happened?
Talk of a potential recession in the US, EU and UK intensified, with a number of economic data releases showing key western economies aren't in the greatest of shape right now. Oh, and the Trade War + Brexit continue to loom in the background, too.
With so many global economic data releases, let's briefly(!) look at the 2 key pieces which moved markets this week:
Purchasing Managers Index (PMI)
This is a monthly survey of business leaders across manufacturing and services sectors, asking them questions on employment and broader activity levels for the businesses which they manage. 

It's regarded as an important indicator of likely economic activity - and GDP - in the coming months.

This week's triple (US, EU, UK) whammy 💥 was delivered over the course of Tuesday, Wednesday & Thursday:

The US Manufacturing PMI figure for September came in exceptionally weak, pointing to a contraction in the manufacturing sector. Meanwhile, the US Services PMI also came in weaker than expected, although it signalled a slowdown in the growth of the Services sector as opposed to a full blown contraction. Overall - not great.

The UK composite PMI for September (consisting of an average of manufacturing, services and construction PMIs) came in lower than the previous figure in August, and pointed to a 0.1% decline in GDP.

The same composite PMI reading for the EU also came in lower than the previous month and below market expectations, signalling the Euro Area economy is also on the edge of a recession. This was driven primarily by weakness in German and French Services sectors.

At this point, investors were running for the exits in droves, selling holdings of stocks almost indiscriminately with all major economic data seemingly pointing towards a looming recession. 

Which explains why stock indices across the US, EU and UK were between 2% - 5% lower for the week by close of business on Thursday. Cue the monthly US jobs report on Friday...
US Non-Farm Payrolls (NFPs) 
This is the monthly US jobs report, published on the first Friday of each month. 

It is one of the most eagerly watched pieces of economic data in the calendar and a primary indicator of the strength of the US labour market. Happy employees = happy consumers, after all...

The report details information on the net number of people entering employment, the unemployment rate and average wage growth for the US economy. Let's look at each of these metrics:

Entering employment: the US economy added 136,000 new jobs, lower than expectations of 145,000 jobs, but not the end of the world - especially given US unemployment has been at historic lows...

Unemployment rate: US unemployment fell to 3.5% in September - the lowest figure in 50 years, bringing this week's biggest sigh of relief for investors all across the world.

Wage growth: came in at 2.9%, lower than the expected 3.2% but again - not the end of the world.

In a world with little-to-no positive economic data, investors were keen to end the week on a positive note by focussing on the historically low US unemployment rate.

Some of the doom-and-gloom sentiment from earlier in the week was promptly erased, with most major stock exchanges recovering *some* of the week's losses to climb 0.5% - 1% on Friday.

While the somewhat-positive US jobs report offered some breathing room - its neither here nor there, and doesn't address underlying economic slowdowns in some of the worlds largest economies. At least its a gradual slowdown as opposed to frantic falling-off-a-cliff 🤷🏻‍♂️
So - what might help steer us clear of a recession?
Central banks, by reducing interest rates or printing money (a.k.a using monetary policy)

US: Investors are increasingly expecting the Fed to cut interest rates in the next month. 

EU: The ECB has restarted Quantitative Easing (a.k.a. printing money) last month - and they might need to start printing more going forward. 

UK: The Bank of England also has some room to cut interest rates from the current 0.75% base rate, but as per usual, Brexit complicates things

Governments, by increasing spending to boost the economy (a.k.a Fiscal Policy)

Safe to say governments in the UK and US are distracted with political affairs at the moment, but European countries have been showing some signs of increased spending, with Angela Merkel announcing a €50bn green spending plan recently. And there may be more to come
International Trade Relations
A resolution to the Brexit saga (one day, eventually, when pigs finally start flying 🐷) 

US and China trade relations

With a presidential election year just around the corner, Donald Trump would do well to force through a trade deal which would undoubtedly boost both global stock markets as well as his chances of being re-elected.

Signs have been positive so far, with China buying US commodities as a gesture of goodwill and the US pushing back the next round of planned tariffs in return 👫With this in mind, we will be watching next week's trade negotiations between the US and China, with the Trump administration seemingly keen to come to the negotiating table in a co-operative spirit. 🍿🥤👀   
What Else is Going On?


US Politics
The "I" Word 🚨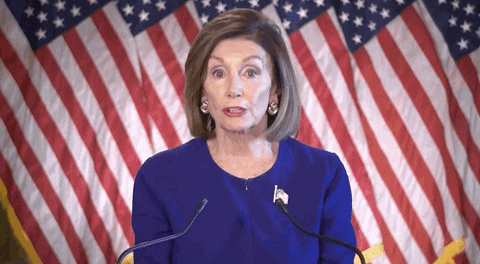 Nancy Pelosi & the Democrats have launched a formal impeachment investigation, centred on allegations that Trump asked the Ukrainian president to investigate 2020 Democratic election candidate Joe Biden. The Democrat-controlled House seems likely to support impeachment, lining up a potential trial in the Republican-controlled Senate. The Donald - in typical Trump fashion - hasn't really been helping himself since the announcement.
Paypal
Hello, China 🇨🇳
Paypal became the first foreign payments platform to be granted a licence to provide online payment services in China, through its acquisition of a controlling stake in China-based online payments provider GoPay. Paypal's entry into the lucrative Chinese payments market gives it an opportunity to compete with Chinese giants AliBaba and Tencent in the payments arena, as well as a significant competitive advantage versus other payments platforms who don't currently operate within China.
Tesla
Profit Guidance - What NOT to do ⛔️
Last week, Elon told Tesla employees via email that the company "has a shot" at delivering 100,000 vehicles for the quarter - a new Tesla record. This email was (obviously) leaked into the public domain, sending Tesla shares around 5% higher and setting the stage for this week's drama. Cue this week, when the company actually reported delivering 97,000 vehicles - a new record high for quarterly deliveries - but not good enough for investors, with Tesla shares down 4% in the aftermath. Mr Musk - while you're no stranger to a little volatility - next time, please could you think carefully before hitting the send button on those internal emails?
Flutter
Paddy Power + Betfair + 🌟 = 🎲 🤑 🎰
Flutter Entertainment - owner of Paddy Power & Betfair - has agreed to acquire Canadian rival The Stars Group ("TSG") (owners of Skybet) for £10bn to be paid in Flutter shares. This will create the world's largest betting company, with a presence in over 100 markets. The combined company will benefit from £140m in yearly cost savings, £1bn in tax savings and the ability to cross-sell products across multiple platforms. The risks here include potential gambling regulation changes in the US / UK, and the heavy load of £4.5bn in debt which TSG has outstanding. Overall, investors seem to approve of this textbook deal: Flutter shares closed 6% higher and TSG up 38% vs. their pre-announcement prices.
World Trade
More Tariffs 🇪🇺 🇺🇸
The World Trade Organisation has ruled in favour of the US following a 15-year dispute with Europe over unfair subsidies provided to Airbus. The US will now levy $7.5bn of tariffs on the EU from October 18, consisting of a 10% aircraft levy and a 25% levy on a host of consumer / agricultural products. On its own, this wouldn't be a huge deal, but combined with already frosty relations on trade between the EU and the Trump administration, it isn't the most reassuring piece of news for those worried about slowing economic growth.
Please know, the value of investments can go up as well as down and you may receive back less than your original investment, meaning, when investing your capital is at risk.
Disclaimer: At Evarvest we believe in making investing and investment education more accessible, but we don't provide investment advice and individual investors should make their own decisions. While we try our best, we cannot ensure the accuracy of the information we provide.
This content is copyright protected by Evarvest Limited (12544579). Evarvest Limited refers to the Evarvest network and/or one or more of its subsidiaries, each of which is a separate legal entity. 
Want this sent to your inbox as soon as it's available? Join the waitlist in the footer below and we'll send them to you each Saturday!